Railway Safety Light Solar powered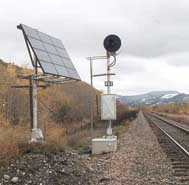 Railway Safety Light Solar-powered LED lights for railway safety, 24 Hours Flasher Solar powered Rail Road warning flasher signal is the cost effective solution to your Rail road crossing safety problems.

Rail Road 24/7 Secure deploy railroad Solar SyStem Solutions, IQTRaffiControl.com remote Solar Power Systems specifically designed to meet the unique demands of the railroad industry. Engineered to ensure that the solar power supply is properly configured and installed to deliver years of top level performance, 24 hours a day, 7 days a week. With over 20 years of railroad product design, the OkSolar team is dedicated to providing the very best solution for your railroad application.

Secure Solutions:
• Wayside Signaling
• Intermediate/Approach Lit Signals
• Repeater Locations
• Hot Box Detectors
• Grade Crossings
• Telecommunication Power Supplies
• Control Points.

Instructions:
1. Identify installation site on the sunlight map and determine the peak sunlight zone Z4 or Z2.

2. Calculate your equipment load profile in Amp/Hr/Day. Example:
A device pulling 2 amps X 24hrs per day @ 12VDC = 48Ah/Day

3. Voltage AC (120VAC or 230VAC) or DC systems (12VDC, 24VDC, 36 VDC or 48VDC).

4. Email the info to us.

Pictures: are graphic representations to help visualize how the final product may look like, and NOT necessarily represents the final product.
Dimensions and Weight
Length: n/a
Width: n/a
Height: n/a
Shipping Weight: 1400