Solar Powered Railroad Crossing Signal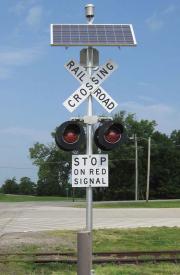 Solar Powered Railroad Crossing Signal
Solar powered Self powered: no need for track circuits, no need for conduits, and no need for external wiring. 2 LED units (facing opposite directions) provide coverage for crossing cars and trucks in either direction. Lights flash as long as the train is moving through the beam and continue to flash for 20 seconds after it passes or stops. A key switch on the pole allows manual operation. Standard features include four 12inch energy saving high intensity LED lights, Stop On Red Signal sign, an industrial grade cross buck, and warning bell. Modularized system to facilitate maintenance. Easily installed on a standard rail foundation. Unit is shipped assembled and ready to mount.
Includes: solar power system / hr deep cycle battery (24 hours continuous load without sun). (4x) 12inch flashing red LED signal lights. Manual override switch on pole. 15ft x 4.5 inch aluminum mast pole with 9.5" bolt spacing base clamp. Stop on Red Signal" sign. Industrial grade MUTCD standard Railroad Crossing crossbuck sign. Electronic warning bell.
Applications:
.-Wayside Signaling?
.-Intermediate/Approach Lit Signals
.-Repeater Locations?
.-Hot Box Detectors?
.-Grade Crossings?
.-Telecommunication Power Supplies
.-Control Points
Zone Type:
To determine the Zone that you are in
Click Here for Information on World Daily Solar Radiation Zones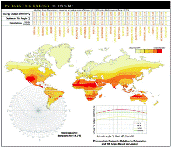 Dimensions and Weight
Length: n/a
Width: n/a
Height: n/a
Shipping Weight: 1250