SP500DR UPS
500VA INDUSTRIAL DIN RAIL UPS
Part Number :
SP500DR

Availability :
North America
Description APC Back-UPS Pro, 500VA/325W, Input 120V/ Output 120V, Interface Port DB-9 RS-232

Features Automatic Voltage Regulation (AVR), Hot Swap Batteries, Line-interactive, Overload Indicator, Replace Batt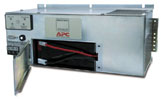 Indicator, Resettable circuit breaker, Status Indicator LED's, User Replaceable batteries

Includes Basic UPS signaling RS-232 cable

OkSolar Options:
An eXPert-UPS™ backup system provides you with a clean, silent,

and environmentally friendly way to protect your business from sudden power outages. OKSOLAR eXPert-UPS systems utilize the latest advancements in power electronics, battery technology, and solar energy technology (optional) to give you the same protection that ups until now has been limited to large businesses and utilities. Easily installed by a qualified electrician, an OKSOLAR eXPert-UPS system gives you the comfort, security, and peace of mind to through any power emergency. Standard systems include inverter, batteries, and circuit protection. During longer power outages, increase your power protection and independence by adding solar modules or an electric generator.
Stabilized using a specially designed component, our eXPert-UPS system combines the power of Solar Energy, Standard Generators, Line Conditioners APC-UPS and state of the art programming and remote monitoring data acquisition system design to provide you with a Truly Reliable UPS system.

Applications: a leading manufacturer and Distributor of uninterruptible power supplies (UPS) and surge protection products for end-to-end legendary reliability

Note: To view the above PDF documents, you will need the free Adobe Acrobat Reader

Inverters, Inverter/Chargers, Smart Battery Chargers, Emergency Backup Power, Tripp-Lite, tripplite, tripp lite, exceltech, iota, Outback, Inverters,Vanner, Sunny Boy, trace, xantrex, AC Inverters and Accessories !